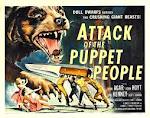 The Central Banks went on the move. Within 45 minutes of each other, the ECB lowered interest rates, the Chinese central bank did too and the U.K. just enacted more glorified quantitative easing. BoE increased their asset purchases by £50 billion to a grand total of £350 billion.
While it appears we have a global, coordinated plan of attack by Central banks, one might also notice we have a global coordinated plan to counter an economic slowdown. In other words, by all acting in concert, this gives more confirmation that we have a global economic mini-implosion going on.
We already know a U.S. recession is projected for 2013. The IMF not only scolded the United States but also is warning on a global economic growth downgrade, coming to a press release near you on July 16th.
"The United States remains vulnerable to contagion from an intensification of the euro area debt crisis, which would be transmitted mainly via a generalized increase in risk aversion and lower asset prices, as well as from trade channels" said IMF Managing Director Christine Lagarde during a press conference in Washington, D.C.

On the domestic front, failure to reach an agreement on near-term tax and spending policies would trigger a severe "fiscal cliff" in 2013, threatening the recovery, she added. Lagarde made these remarks after joining the final policy discussions.

The IMF expects U.S. growth to remain modest during the next two years, constrained by housing difficulties, the expiration of fiscal stimulus measures, and continued low global demand, particularly in Europe. Growth is projected at 2 percent in 2012 and about 2¼ percent in 2013.
Seems generally the globe is preparing for yet another economic slowdown. In other words, things are not going to get better, things are going to get worse.
We've already seen a slew of economic reports showing declines not seen for three years. Earlier the FOMC downgraded the economy as well.
Europe is probably already in a recession and China's mercantile trade practices might be hitting a wall:
The big data release of the week will come on Thursday when China unveils its second quarter economic growth numbers, and June data on industrial production and retail sales.

A Reuters poll showed economists expect the data to show China's economy expanded in the second quarter by 7.6 percent from a year earlier, its weakest performance since the 2008-09 financial crisis and the sixth straight quarter of lower growth.

The big worry for Asia's exporting nations, such as China, is a possible slide by the world economy into a repeat of the financial crisis of 2008/2009, when global trade ground to a halt.
Naked Capitalism does a round up on China's not so soft landing by relying on exports for growth. Yet for the United States, our problem is the trade deficit, it has been negatively impacting U.S. economic growth for over 30 years. That said, so much production has been offshore outsourced to China, raw materials and intermediate components for finished products and other interdependencies could negatively impact the U.S. We haven't even started talking about China's U.S. Treasury purchases either.
Of course much of this economic malaise could be averted, but our politicians will do nothing.
None of this should be happening. As in 1931, Western nations have the resources they need to avoid catastrophe, and indeed to restore prosperity — and we have the added advantage of knowing much more than our great-grandparents did about how depressions happen and how to end them. But knowledge and resources do no good if those who possess them refuse to use them.

And that's what seems to be happening. The fundamentals of the world economy aren't, in themselves, all that scary; it's the almost universal abdication of responsibility that fills me, and many other economists, with a growing sense of dread.
The ECRI has already said an economic contraction is imminent. S&P just warned on a European recession.
A recession is defined as two quarters of real GDP contraction. Yet, 2% annualized real GDP growth is assumed to be barely trending water. Generally speaking, most economic indicators point to a stagnant U.S. economy to a slow down, rather than a dramatic recession. U.S. LEI haven't been updated with this month's economic reports, nor have many others. Also, 2013 is six months away. That said, for the average American, U.S. citizen worker, the great recession never ended. We have the never ending jobs crisis and the middle class losing 40% of their wealth.
Bottom line, the recent U.S. economic reports give us a bad feeling, never mind what all of the official indicators and business cycle daters have to say. With that, we'll leave you with two graphs. The first is PMI, which contracted to 49.7% for June, against gray U.S. recession bars. Notice how clearly PMI, with a 50 inflection point for expansion and contraction, tracks U.S. recessions, especially when below 40%. Also notice sometimes PMI has contracted without a full bore recession happening as well.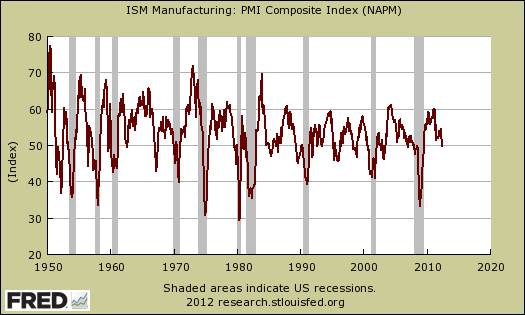 The second is the number of people in part-time jobs due to having their hours cut as a percentage of the total unemployed. This figure has remained highly elevated starting with the great recession. Notice how closely this ratio matches the gray recession bars. Job losses really start happening after a recession is in full bloom.
There are some who insist residential real estate is going to make some amazing recovery and save the day. In fact residential investment did add 0.41 percentage points to Q1's 1.9% GDP. This is an improvement over Q4's 0.25 GDP percentage point contribution, it is not enough to get the U.S. over the hump. Nor do any of the housing indicators imply the deflated housing bubble can magically pop back up. On top of things people never say where Americans are gonna get the money for the mortgage on a long term basis and clearly America is tapped out. Add to that Central banks have already played most of the tricks up their sleeves, numerous governments only act when corporate lobbyists want them to and we've got dark clouds on our economic horizon. Just what we need when we're already decimated by the previous recession storm.
Speaking of which, Dr. Doom Nouriel Roubini says 2013 is the perfect storm and could be worse than 2008.