Moody's downgraded 15 banks, primarily because banks are busy placing bets in the great capital markets gambling casino. As a result of these downgrades, banks borrowing costs will increase and they will have to pony up more collateral to cover their holdings and trades. Below is a chart the new credit ratings and additional collateral costs banks reported in their 1st quarter financial statements. Moody's originally warned about bank credit ratings downgrades in February.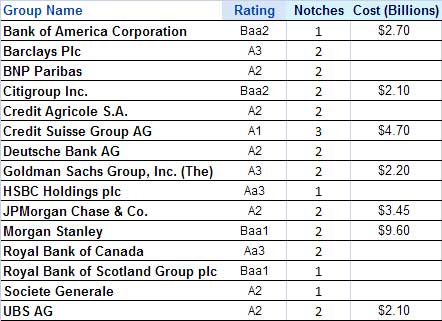 Moody's main reason for swinging the ratings hatchet was Global Capital Market activities.
All of the banks affected by today's actions have significant exposure to the volatility and risk of outsized losses inherent to capital-markets activities,
Capital markets are, in part, long term debt instruments. In other words, exposure to sovereign debt, specifically European sovereign debt. Moody's gave reasons for each individual bank downgrade. For example, BoA's mortgage exposure was cited as well as their litigation costs. Why, we have no idea, since any civil action has resulted in BoA getting away with murder. Credit Agricole, on the other hand, has heavy Greek debt exposure. That said, with almost every bank downgrade comes the mention of risky activities, inability to reduce risk, challenging risk culture and large percentages of their quarterly profits due to risky global capital market investments. In other words, the great derivative gambling casino finally caused a few downgrades. Below is the sweeping overview from Moody's with the details for individual banks at this link.
--FIRST GROUP

The first group of firms includes HSBC, Royal Bank of Canada and JPMorgan. Capital markets operations (and the associated risks) are significant for these firms. However, these institutions have stronger buffers, or 'shock absorbers,' than many of their peers in the form of earnings from other, generally more stable businesses. This, combined with their risk management through the financial crisis, has resulted in lower earnings volatility. Capital and structural liquidity are sound for this group, and their direct exposure to stressed European sovereigns and financial institutions is contained.

Firms in this group now have standalone credit assessments of a3 or better (on a scale from aaa, highest, to c, lowest). Their main operating companies now have deposit ratings of Aa3, and their holding companies, where they exist, have senior debt ratings between Aa3 and A2. Their short-term ratings are Prime-1 at both the operating and holding company level.

--SECOND GROUP

The second group of firms includes Barclays, BNP Paribas, Credit Agricole SA (CASA), Credit Suisse, Deutsche Bank, Goldman Sachs, Societe Generale and UBS. Many of these firms rely on capital markets revenues to meet shareholder expectations. Their relative position reflects a combination of differentiating and sometimes adverse factors. Capital markets operations constitute a large part of the overall franchises for Credit Suisse, Goldman Sachs, Barclays, and Deutsche Bank, but less so for UBS, Societe Generale, BNP Paribas and CASA's cooperative group, Groupe Credit Agricole.

Other factors contribute to the relative positioning. For example, Barclays, BNP Paribas and Groupe Credit Agricole have, to varying degrees, relatively robust shock absorbers. Exposure to capital markets businesses is very high for Goldman Sachs, but this is balanced by a record of effective risk management. Barclays, BNP Paribas, Groupe Credit Agricole, and Deutsche Bank also have sizeable but varying degrees of exposure to weaker European economies. Some firms are relatively weak with regard to structural liquidity or reliance on wholesale funding.

Firms in this group now have standalone credit assessments of baa1 or baa2. Their deposit ratings range between A1 and A2, and their short-term ratings are Prime-1 at the operating company level. Their holding companies, where they exist, have senior debt ratings between A2 and A3 and short-term ratings between Prime-1 and Prime-2.

--THIRD GROUP

The third group of firms includes Bank of America, Citigroup, Morgan Stanley, and Royal Bank of Scotland. The capital markets franchises of many of these firms have been affected by problems in risk management or have a history of high volatility, while their shock absorbers are in some cases thinner or less reliable than those of higher-rated peers. Most of the firms in this group have undertaken considerable changes to their risk management or business models, as required to limit the risks from their capital markets activities. Some are implementing business strategy changes intended to increase earnings from more stable activities. These transformations are ongoing and their success has yet to be tested. In addition, these firms may face remaining risks from run-off legacy or acquired portfolios, or from noteworthy exposure to the euro area debt crisis.

Firms in this group now have standalone credit assessments of baa3. Their deposit ratings are A3 at the operating company level. Their holding companies, where they exist, have senior debt ratings between Baa1 and Baa2. Their short-term ratings are Prime-2 at both the operating and holding company level.
Then, the IMF issued a warning that the European Financial Crisis has reached critical stage:
The euro area crisis has reached a critical stage. Despite extraordinary policy actions, bank and sovereign markets in many parts of the euro area remain under acute stress, raising questions about the viability of the monetary union itself. A determined and forceful move toward a more complete EMU, particularly a banking union and more fiscal integration, is needed to arrest the decline in confidence engulfing the region.
The IMF has laid out various reasons for the problem, and reiterates a move to a banking union and fiscal consolidation. Yet one thing demanded by the IMF stood out. The IMF claims Europe must lower unit labor costs. Great, huh, squeeze workers under this lie of being competitive.
With that, below is a Bloomberg Law interview with Greece's attorney Lee Buchheit. Buchheit is on the front lines of the European debt crisis. He navigated and negotiated Greek's investor hair cut and restructuring deal. Buchheit is predicting Europe will need yet another €1 trillion and Cyprus is the next nation up for a bail out. This interview has a lot of insight, from a veteran expert's view returning home from the ongoing debt war.
Capital controls are financial speak to stop the bank runs going on in some of the imploding European nations.