Here I was, with a nice polite post set to print, when I read the related links to this article at Naked Capitalism. And what do they all say? "Oil is surging because the dollar is tanking."
So excuse me, but I have to toss the politeness out the window and shout, "IT'S NOT THE DOLLAR, STUPID!!!" Here's a graph from Worthwhile Canadian Initiative including a variety of currencies, just against Oil:


OK, smartypants, if it's all about the dollar, then why is the price of Oil surging in EVERY CURRENCY??? And don't give me that "Peak Oil" cr**....
Last time I checked, we hadn't also arrived at Peak Copper, Peak Lumber, and and Peak Pigs. Which brings me to Exhibit 2: below is a graph from Yahoo finance, comparing appreciation in the Euro vs. the dollar (in blue) vs. appreciation in energy commodities (in red):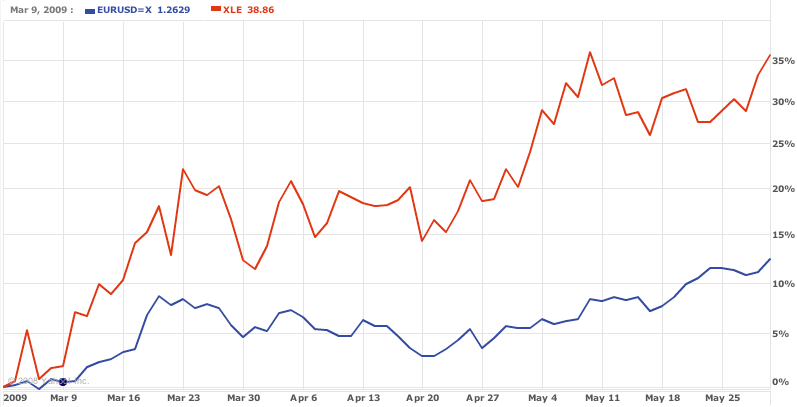 If it were all about the dollar, the two lines in the graph above ought to stay together (commodities shouldn't be rising more than the Euro). But they're not. While the Euro has appreciated about 10% against the dollar, energy commodities have appreciated 30% in the same time. In other words, even though the Euro has nowhere near the structural external debt problems that the dollar has, the price of commodities are surging in Euro terms too.
So let's be clear: (1) it's not just Oil, and (2) it's not just the Dollar. Every commodity is surging in price vs. every currency. Stuff is beating paper.
You may recall I've dubbed the EIA statistics on gasoline demand the "graph of the year." Here's the update: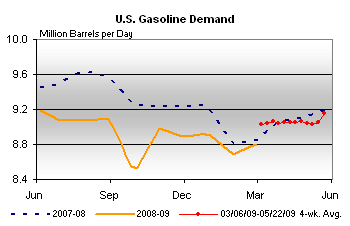 For the graph-impaired, this shows that with the exception of the week of Memorial Day, demand is lower than it was a year ago, which in turn was lower than it was two years ago.
In other words, energy prices are surging for no apparent fundamental reason. All of a sudden June 2009 feels like June 2008. Here we are, a year later, noticing the exact same thing: the price of Oil is surging,from $48 to $68 in just the last 40 days (the percentage equivalent of going from $96 to $136 last spring).
OK, now I will revert to politeness....
Prof. James Hamilton of Econbrowser has written, in Supply, Demand, and the Price of Oil that:
Whatever recent developments in Asia may mean for the future, there is a physical product being produced and consumed in the here and now at a price that Friday moved above $66/barrel. If that price is such that the current quantity produced exceeds the current quantity demanded, it would have to show up as an addition to storage, either as inventory build-up, or, as Dave Cohen emphasizes, held in tankers at sea. ... The fact that inventories were significantly below average in the first half of 2008 is one of the indicators to me that you can't attribute the whole run-up at the time to speculation.

By contrast, so far this year inventories have been well above average. Futures prices had exceeded spot prices by enough until recently that there was a risk-free profit to be had from buying at spot, storing the product physically, and hedging by selling futures. Had it not been for the added demand for oil coming from inventory accumulation, the price would have fallen further. Nevertheless, it is interesting that U.S. inventories have been coming down significantly during May, the same month when oil prices started to rise significantly, although inventory levels remain above average.
Prof. Hamilton seems to believe that, this time around, it really is speculation, not true demand. But if that is so, we ought to be able to recycle Prof. Paul Krugman's rejoinder from a year ago: where's the hoarding? Last year, it turned out there was "Hoarding in Plain Sight" in the form of US and especially Chinese oil reserves. When China stopped adding to its reserves before the Olympics, the price of Oil broke.
The aforesaid Dave Cohen alluded to by Prof. Hamilton notes a Bloomberg article from May 5 as follows:
BP Plc, Royal Dutch Shell Plc and Hess Corp. are among oil companies whose first-quarter earnings were boosted by storing crude in tankers. ....

Traders are storing 100 million barrels of oil at sea, enough to supply Europe for five days, Frontline Ltd., the world's largest supertanker operator, said April 23. Provided they can secure storage and financing for less than the difference between near-term and future prices, they can lock in a profit by buying prompt oil and selling it forward.
Cohen believes that

In the meantime, the main beneficiaries are investment banks taking the opposite side of the trade to their customers....

In effect, retail investors and pension funds are paying the bills for the record quantity of crude oil being stored in tank farms around the world and in vessels offshore, via the losses they make when they roll their positions forward every month.
This appears to confirm that there is hoarding going on. There is a tremendous speculative boom again in commodities, and it will just as surely bust. On that score, Frontline's latest weekly report from May 29 notes that "In the Atlantic, VL rates are flat as well, but tonnage availability is on the rise as floating storage vessels return to trading." How high prices will get before the bust, I can't say. Except just as I did last year, I will say that the longer Oil prices go above $80, the deeper the pain to American consumers, and the bigger the hit the economy will take.