The attack on labor is in full throttle. We hear reports of outrageous pay for government workers with economic fictional spin. Pundits weave tall tales blaming the workers themselves as the reason for America's economic malaise. Actual wage statistics are never mentioned. Nor is the never ending income inequality in the United States and the policies which cause it.
The social security administration keeps statistics on average and median wages as reported on Federal income taxes and contributions to deferred compensation plans. They use this data to calculate your social security benefits. Below is a chart of the average wage and median wage since 1990. Median means 50% of all wage earners earned that wage or less.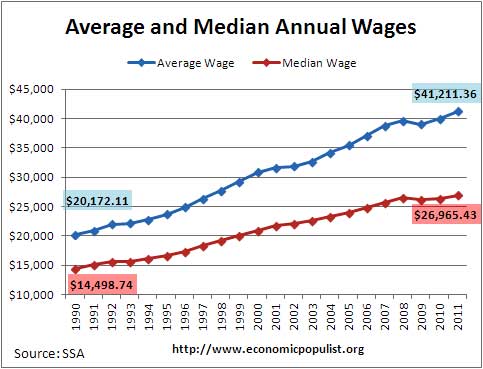 The average wage has increased 104.3% since 1990, yet the median wage has only increased 86.0%. The reason the average wage has increase more than the median is the super rich. Average wages are calculated by taking the total compensation in America and dividing by the number of wage earners. The reason the median and average diverge is because those few at the top making millions pushing the average wage amount much higher.
To see this below is a graph of wage earners by income bracket. A full 15.6% of wage earners make less than $5000 per year. A whopping quarter, that's 24.7%, of all wage earners make less than $10,000 per year.
The average wage in these income brackets is also astounding. For those making less than $5,000 a year, the average wage is $2,019.42. For those making between $5 thousand and $10,000 the average wage is $7,400.95. That's 13,85 million people earning between $5,000 and less than $10,000 a year, right here in America with an astronomical 23,548,858 wage earners making less than $5k.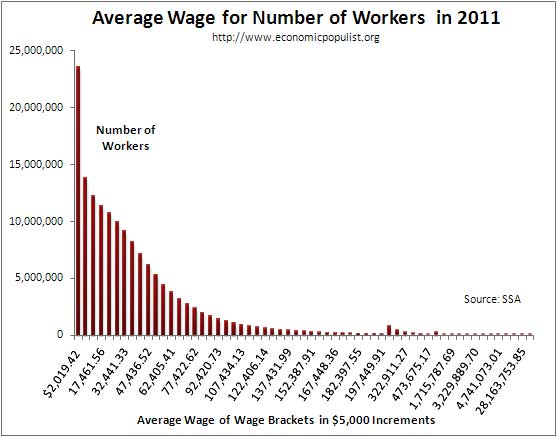 Income is so unequal we wonder if it compares to the days of the aristocracy. We've heard much about millionaires. Yet those earning less than a million dollars a year is 99.93% of all wage earners. More interesting 99.93% of us have only 96% of the net compensation. Fifty-four percent of America makes less than $30,000 a year. Yet 54% of wage earners only have 16% of the total net compensation. Below is a distribution graph, per compensation bracket, of the percentage of wage earners in that bracket (blue), vs. what the percentage of total compensation is for that bracket (red). The chart shows, per wage bracket, how many people are in that wage range and what percentage of the total compensation pie they receive.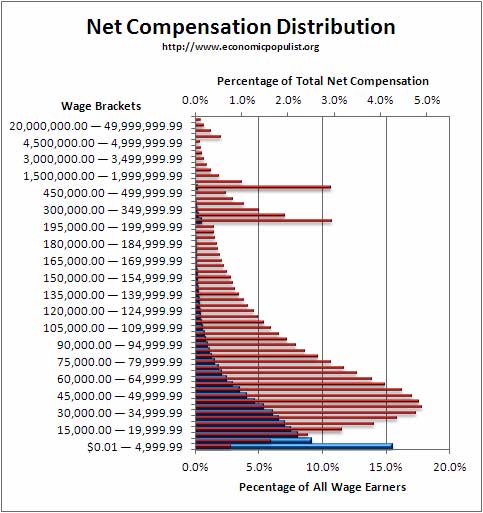 To put this in perspective, the top wage bracket is over $50 million. Ninety-three people have net compensation at or above this amount. As a percentage of total wage earners, these 93 individuals represent 0.000061434% of the total income earners in 2011. Yet this special group of 93 received 0.12% of the total net compensation earned in 2011. That means as a group, these $50+ millionaires have 1936 times more money distributed to them as a population size than say those earning less than $5,000 a year. This income inequality as it's finest and this is what America has become.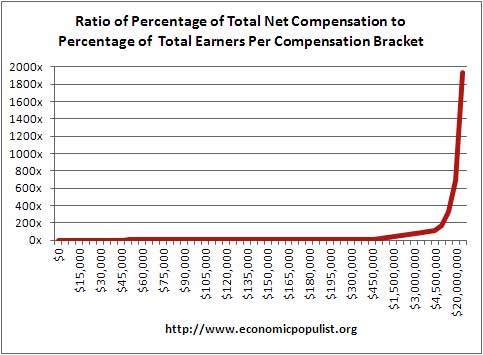 In spite of these never ending dire wage and earnings statistics, labor and their need for a decent wage are under attack. Just recently Michigan passed a right to work law, as usual, blaming unions for the piss poor economic conditions of Michigan.
People like Amity Shlaes belong with those who think the Earth is flat, created in six days, and certain behaviors will make you go blind. The question really needs to be asked is how these people are even given paper and pen, never mind any public forum. Making millions trying to rewrite history to some illogical warped fiction is frightening. Such spin is a black art that should be left on the ash heap of Joseph Goebbels' remains.
This op-ed amplified a study on right to work. Right to work statutes are designed to break unions by reducing their collaborative power. Unions help enormously in wages and benefits in statistical reality. While Michigan Republicans continue their attack on labor, unions might be able to put right to work on the ballot as an repeal initiative.
The average wages and benefits for nonfarm workers in right-to-work states was $57,732, while in states without the law it was $65,567. States with antidues laws have higher rates of poverty and lower rates of health coverage.
We also have a never ending attack on state workers, their pensions and wages. California's budget problems are not due to their $11 billion annual illegal immigration costs, or a bureaucratic nightmare system, according to pundits. Oh no, it's unionized state workers that is the focus of their ire, once again workers are the problem.
It's a theme that goes on and on in a myimid of ways. Workers are seen as a cost and wages as anti-competitive. We have over 15% of America on food stamps and declining consumer spending where disposable income is required, yet income and wages are not part of the economic recovery discussion. We're sorry, labor is not the problem unless you are a corporation and want to pay Americans the same wages as Bangladesh. That's what's going on here, a never ending worker squeeze and at this point that's blood from a stone.
We often hear pundits telling workers their jobs are going to China and not coming back and due to policies this is currently true. The monthly trade deficit statistics show how China is simply capturing our industrial base. China ships goods into the U.S. we used to make every day. Exports was a major reason the U.S. became an economic superpower after WWII. We literally handed China the keys to our kingdom by outsourcing our jobs and manufacturing abroad.
Now Generation Y is finding themselves stuck in dead end jobs, overeducated, in debt and not using their talents.
Generation Y professionals entering the workforce are finding careers that once were gateways to high pay and upwardly mobile lives turning into detours and dead ends. Average incomes for individuals ages 25 to 34 have fallen 8 percent, double the adult population's total drop, since the recession began in December 2007. Their unemployment rate remains stuck one-half to 1 percentage point above the national figure.
Right now we have politicians claiming they are for the middle class. They feel our pain and empathize all the while enacting policies and agendas by and for corporations. Pundits spew soaring rhetoric as if pomp and circumstance trumps the stark economic reality most Americans are struggling with. Every single statistic shows wage repression, a widening gap between rich and poor. If trickle upon economics really worked we would be swimming in pools of gold instead of the never ending economic shit pile the American worker is in.
We hope all pay very close attention to deeds and policy and the people behind these politicians. Words are cheap. Yet the deeds of politicians have made us cheap. That's their accomplishment, the destruction of America's middle class.
For more details of past wage data see our popular post, wages in America, most of us are have nots and article Wage statistics pain a bleak picture.