While the Dow hit 14,000 and Wall Street cheered, economic indicators cast a broadening dark shadow. Wall street is partying like it is March 2000. Yet Q4 GDP showed economic contraction. The response of the press and Wall street was to ignore Q4 gross domestic product as some sort of illusion and anomaly. We don't think so.
First, the reduction in real Federal defense spending was 22.2% from Q3 and is really a record decline. Some point to Q4 being a time when defense expenditures are low, due to their need to spend their budget by Q3, the end of the fiscal year. Indeed, defense spending did boost Q3 GDP. Yet if we look at the below graph, federal defense consumption and investment really crashed and burned for Q4.
The reduction was pretty much all services used by national defense. These are research and development and support services for installation, weapons, personnel, transportation and travel. There hasn't been a worse quarterly decline in defense spending on services since Q1 2000.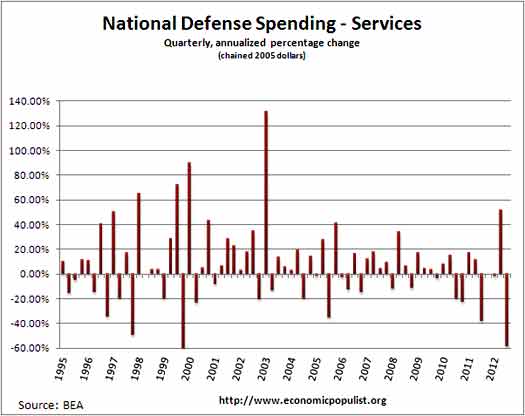 On just the investment side, the reality is defense investment has been driving the economy, but planned defense cuts will curtail that significantly. Below is adjusted for inflation investment by federal defense.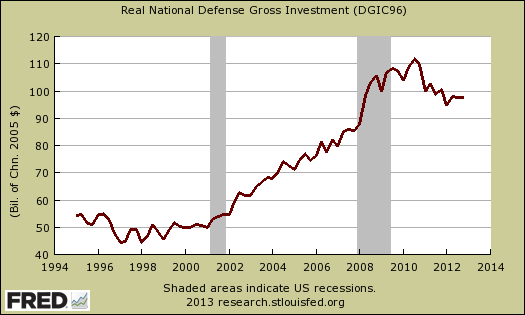 Defense spending is rarely mentioned as economic activity and a stimulative one at that, but two wars, the war on terror, and hordes of defense contractor lobbyists have been costly. Those costs also stimulate the U.S. domestic economy. While some blame the fiscal cliff and Simpson-Bowles for the national defense spending declines, the reality is the Obama administration is planning defense budget cuts all the way to pre 9/11 levels. That actually will cause the economy to contract. Who says war isn't a business?
We cannot find any actual announced cuts by the DoD in services in preparation for the fiscal cliff. That said, there were announced defense budget cuts generally earlier in the year to the tune of $487 billion over the next 10 years. That is in addition to the forced $600 billion in cuts that were part of sequestration, which were threated if the fiscal cliff wasn't resolved.
Sequestration is still on the table as the debt ceiling was simply suspended for three months. The temporary raising of the debt ceiling is now tied to the budget, so the U.S. could still be looking at another over $1 trillion in defense budget cutting over 10 years.
Part of the $487 billion cuts also required $47 billion to be cut FY2012. The defense budget requested $31 billion less for FY 2013 and at minimum the defense budget must fall to $589 billion by 2014 due to earlier agreements.
The Bipartian Policy Center estimates the defense cuts to now be $55 billion over the next seven months The job loss estimates are ranging from the CBO's 700 thousand to one million for 2013 and expect 1.2 percentage points to be shaved from 2013 annual GDP. Imagine what would happen to the economy if House Republicans demand more slash and burn budget tactics, targeting America's social safety nets.
Another element which causes 4th quarter GDP to implode was non-farm inventories. Businesses shed what they had on hand for making products to stock for future sales.
Some are referring to the January ISM manufacturing index , which showed an increase in inventories, to claim the GDP contraction is just temporary. Even though the manufacturing ISM indexes do track other indicators, manufacturing inventories are only part of the inventory changes which contribute to GDP. Factory orders show no such hope that inventories will grow in Q1 2013. A decline in inventories is actually an indicator of weak economic demand. Goods are not flying off the shelves so businesses cut back to what they believe they really need for future production and business activity.
There was one effect on Q4 GDP that was temporary. Superstorm Sandy as we outlined here and here, did negatively impact 4th quarter GDP. Northeast shipping ports were temporarily crippled, which possibly affected Q4 exports. Yet GDP imports are always revised and almost always upward in the 2nd estimate for gross domestic product. In other words, yes exports were probably affected by the storm, but that doesn't negate the bad trade deficit figures we see monthly.
We also have Congress and this administration focused on budget cuts instead of stimulating the economy enough to create jobs. While budget deficits do matter, ignoring America's jobs crisis as not government job #1 explains in part why America continues to suffer a weak economy.
Bottom line, ignore 4th quarter GDP at your peril. There is nothing in economic reports so far which show things will greatly improve. If automatic budget cuts go through it is more probable the economy will see a new recession. It is only in the minds of those on Wall Street and politicians believing their own spin on K street that the economy is swank and we're on the road to recovery.