The Philly Fed Survey current business activity index plunged -30.7% for August. The below graph is the Philadelphia Fed Current Business Activity Index against Industrial Production, the national manufacturing and output indicator, released by the Fed. Without running correlations over time, it appears the Philadelphia Fed's regional index does closely match the percent change in Industrial production. The Federal Reserve's August data will be released in September.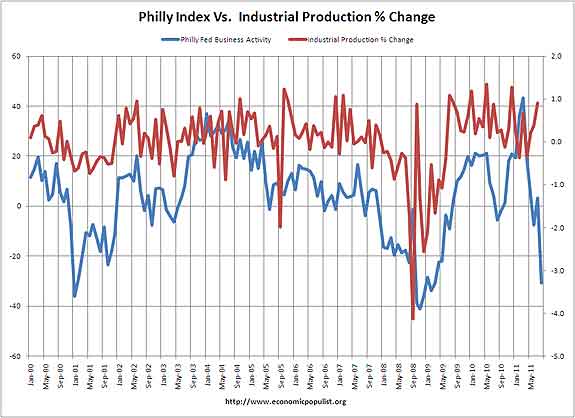 What about the ISM Manufacturing Survey? The regional Philly Fed New Orders diffusion index also seems to be highly correlated to the national ISM new orders index, graphed below. The August ISM manufacturing release is September 1st.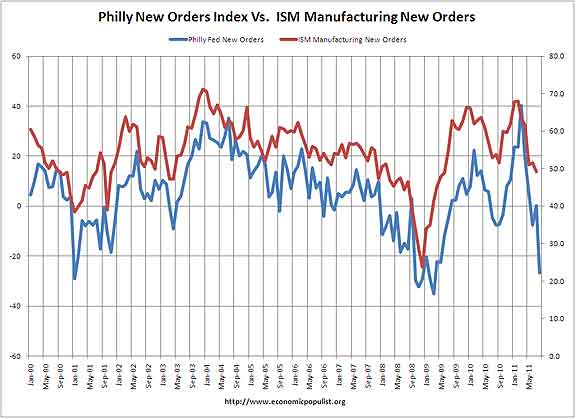 Finally, does the Philadelphia Federal Reserve regional index match changes to GDP growth? The below graph shows the Philly regional index isn't as closely correlated to GDP in comparison to the national industrial production index changes and the ISM manufacturing new order index, but GDP quarterly percentage growth (annualized) is still fairly close. Graph below. Q2 covers April, May & June and is the last GDP estimate available.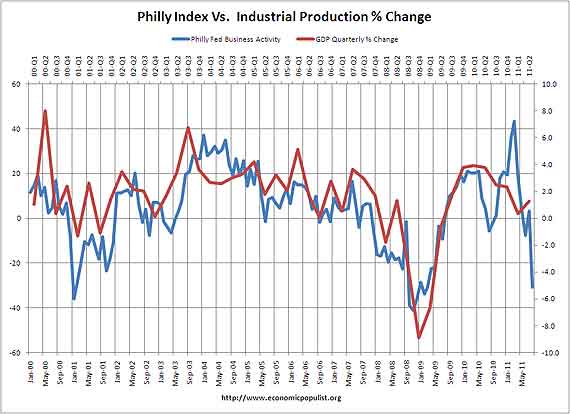 Seems traders were right to plunge the Dow -419.63 on news of this regional data release, from examining the above graphs.
All of the Philly Fed indices showed declines. From the report:
The survey's broadest measure of manufacturing conditions, the diffusion index of current activity, decreased from a slightly positive reading of 3.2 in July to -30.7 in August. The index is now at its lowest level since March 2009 (see Chart). The demand for manufactured goods, as measured by the current new orders index, paralleled the decline in the general activity index, falling 27 points. The current shipments index fell 18 points and recorded its first negative reading since September of last year. Suggesting weakening activity, indexes for inventories, unfilled orders, and delivery times were all in negative territory this month.

Firms' responses suggest a deterioration in the labor market compared with July. The current employment index fell 14 points, recording its first negative reading in 12 months. About 18 percent of the firms reported an increase in employment, but 23 percent reported a decrease. The percentage of firms reporting a shorter workweek (28 percent) was greater than the percentage reporting a longer one (14 percent). The workweek index fell 9 points.
The Philadelphia Federal Reserve Business Outlook survey is conducted monthly on manufacturers in the 3rd Federal Reserve district only. We have seen some regional economic indicators and surveys in the past plunge, with little effect on the national economic data, so the above implies the 3rd district does mirror more closely the national data than other regional surveys.
The Philly Fed also has a series of future, or 6 months out questions and indices. The Philly Fed says they also dipped but are still above 50, or positive.