U.S. Corporations made record profits in 2011 while regular people went without jobs. A new study from the International Labor Organization shows Corporate Profits are doing fine and back to pre-recession levels. Yet this is at the expense of American workers and investment in America.
The ILO covers labor internationally. From their report, the world of work, there are some dire predictions. Austerity is one thing killing economies. The authors also found no recovery in sight for labor markets. They also realize as do many, except for those who could actually do something, if policies were enacted that were geared towards labor, we would not be in this mess and finally, the high unemployment and never ending income inequality is brewing up a nasty mix of social unrest.
More than half of 106 countries surveyed by the ILO face a growing risk of social unrest and discontent.
Add to that a new report from the Census, in part sponsored by the ,Kauffman Foundation, shows start-up companies are at record lows, 8%, in the United States.
The nation's business startup rate fell below 8 percent for the first time in 2010, marking the lowest point on record for new firm births. New firms as a percentage of all firms continued a steady downward trend in 2010 – going from a high of 13 percent (as a percentage of all firms) in the 1980s to just under 11 percent in 2006 before making a steep decline to the 8 percent in 2010 – the most current year of data available.
In Where Have All the Young Firms Gone (pdf), we have some god awful statistics on businesses starting up.
In the 1980's start-ups were 12-13% of all firms. Now they make up 7-8% of businesses and also individually employ less people. Below is a graph from the report showing the declining employment percentage startups contribute.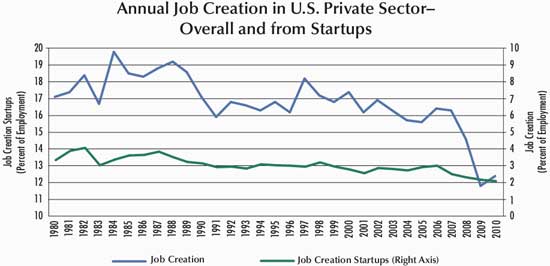 In the 1980's young firms created over 40% of new jobs and in 2010 start-up job creation was 30% of new jobs. Overall startups used to employ about 20% of the workforce, in 2010 startup employment was down to 12%.
The report does point to some cyclical affects of the great recession, but one cannot blame the overall decline on this. Something else is wrong and we have a consistent pattern of declining new businesses. Startups are vital to economic growth. In fact startups still lessened the blow on job losses during the recession. From the report:
The new BDS data release shows that, in 2010, 394,000 startups created 2.3 million jobs (these were not simply establishment openings but new firms whose establishments also were new to the economy). This reflects substantial job creation in a time of anemic overall economic activity. Over the same period from March 2009 to March 2010, the net job creation from all U.S. private sector firms was -1.8 million jobs. Without the contribution of business startups, the net employment loss would have been substantially greater.
So, we have GDP growth that is not enough to push job creation, we have employment that shows people are dropping out of the labor force entirely. We have jobs barely keeping up with population growth while policy makers promote dumb and dumber corporate driven politics. Can we even imagine politicians these days enacting policy simply because it was common sense, based on real economic theory and is the right thing to do? No, instead we have pundits du jour babbling on, enabled by cable news, trying to turn down into up and left into right.
These reports, taken together, make it abundantly clear we need strong, U.S. citizen labor focused, policies which force corporations to invest, hire and take risks with their venture capital divisions on America. We also clearly need to really reform Wall Street and grow the production economy. Will we get anything close? Of course not.